Facebook today invents Facebook Campus that is designed to help college students to connect with their fellow classmates over shared interests. Facebook Campus makes it easy to find and start conversations within the college community.
The reasons for making Facebook Campus
This year, students across the country are facing new challenges as some campuses shift to partial or full-time remote learning, so it's more important than ever to find a way to stay connected to college life.
College is a time for making friends, finding people who share similar interests, and discovering new opportunities to connect from clubs to study groups, sports, and more.
In the early days, Facebook was a college-only network, and now we're returning to our roots with Facebook Campus to help students make and maintain these relationships, even if they're away from their college.
How Facebook Campus works
Facebook Campus is a dedicated section in the Facebook app designed for students, with a Campus profile that's different from their main Facebook profile. When creating a Campus profile, all students need their college email and graduation year, other information such as their major, classes, hometown, and minor is optional.
We may receive a portion of sales if you purchase a product through a link in this article at no cost to you, though all opinions are our own. For more information, please read our ethics statement. Please note that pricing and availability are subject to change.
Once a profile is set, students can discover Groups and Events unique to their school, and connect with classmates who share similar interests. When the content is shared on Campus, only people within Campus will see it.
Features using Facebook Campus
Campus-only News Feed: Campus is a college email-verified space designed for students to get updates from classmates, groups, and events in a college-specific feed. Students can create study groups, plan virtual concerts, or ask for advice with college-only Groups and Events.
Campus directory: College is about finding your people, so we created a classmate's directory to make it easy to find and meet new people. Like in the early days when Facebook was a college-only network, students can find classmates by class, major, year, and more.
New ways to chat: Campus Chats are real-time chat rooms. Students can create chat rooms for their dorm, clubs, or any other groups they're part of within Campus.
The availability of the Facebook Campus to the following colleges in the US: Benedict College; Brown University; California Institute of Technology; College of William & Mary; Duke University; Florida International University; Georgia Southern University; Georgia State University; Johns Hopkins University; Lane College; Lincoln University (Pennsylvania); Middlebury College; New Jersey Institute of Technology; Northwestern University; Rice University; Sarah Lawrence College; Scripps College; Smith College; Spelman College; Stephen F Austin State University; Tufts University; University at Albany – State University of New York; University of Hartford; University of Louisville; University of Pennsylvania; University of Wisconsin-Eau Claire; Vassar College; Virginia Tech; Wellesley College; and Wesleyan University. Students at these colleges can find Campus within the Facebook app.
Privacy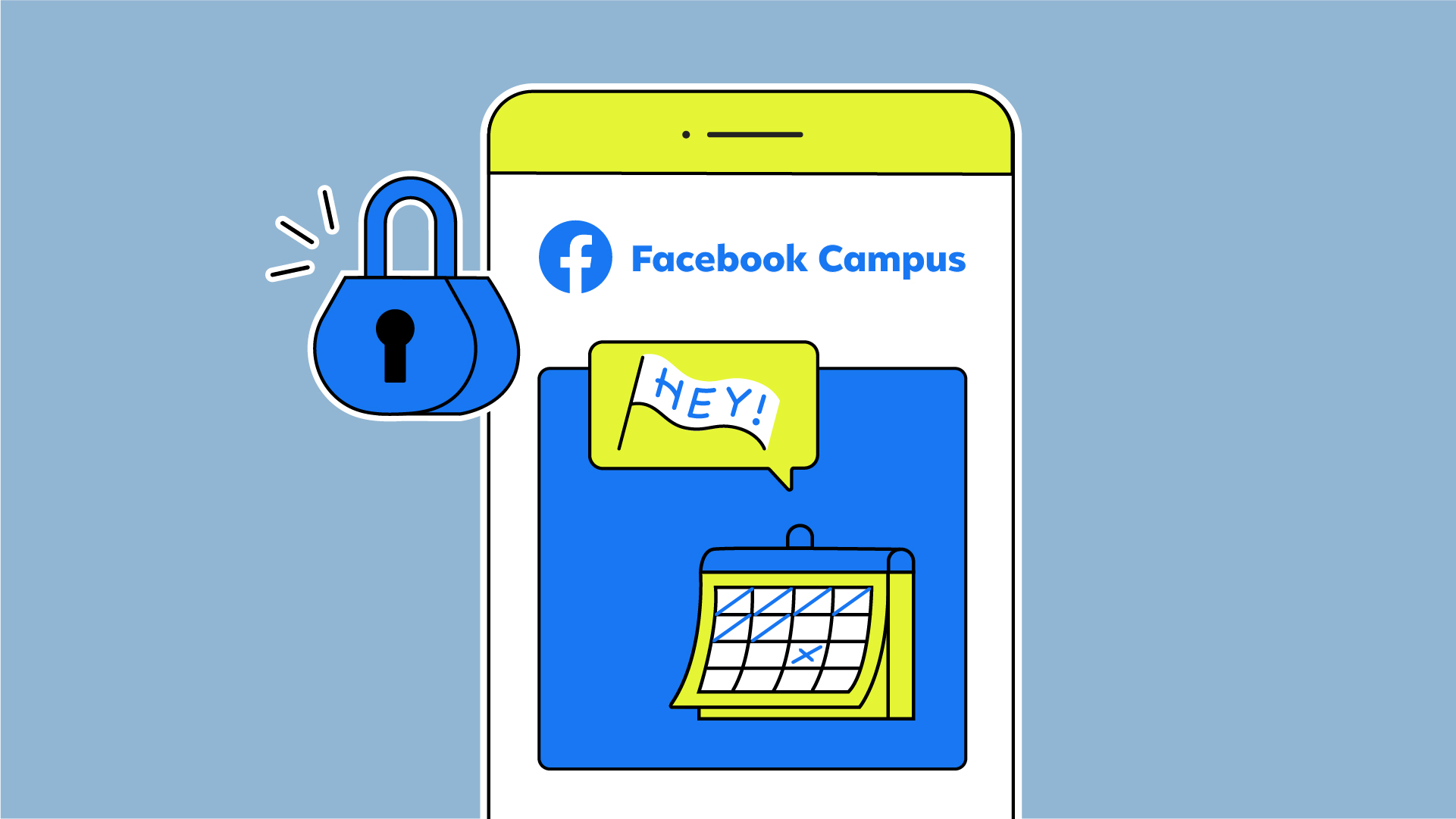 People who sign up for Campus and are part of your college community will be able to see your Campus profile and the content you post on Campus. In order to gain access to Campus, people will have to input their school email address to verify their affiliation with the school.
Name, profile photo, cover photo, and hometown from your Facebook profile will be added to your Campus profile, but you can edit or remove your hometown from your Campus profile if you'd like.
Select college Pages have access to Campus. These college Pages can create, join, and participate in Campus Groups and Events, but they do not have access to chats or the classmate's directory. People who manage your college's Page can also see your Campus profile if you and the Page both belong to the same Campus Group or Event.
The Campus does not have public Groups or public Events like Facebook does where content is visible to users on and off Facebook. Groups and Events in Campus are limited to your school so no one outside of your Campus can access or search for them. Campus Groups can either be open, which means anyone in your school's Campus can see them, or they can be private, which means content in the Group is only visible to the members of that specific group.
Similarly, Campus Events can be open, private, or Group Events. Open Events are visible to anyone within your school's Campus. Private Events are only visible to invited guests on Campus. And for Group Events, anyone who can see the Group can see the Event.
You can use the Campus directory to find classmates who share your major, classes, graduation year, and more based on their Campus profile information. You can block someone on Facebook or Campus and we won't inform them. When someone you've blocked is logged into Facebook, they won't be able to find you on Facebook or in the Campus directory.
The Campus is an opt-in experience within the Facebook app so you choose whether to join Campus and create a profile. Every Campus profile contains your name, cover photo, and profile photo from your Facebook profile, as well as your graduation year. All other fields are optional and you can choose what you want to include. You can choose to delete your Campus profile through Campus settings at any time and your Campus profile will no longer appear in the classmate's directory. You can also delete data such as comments in a group, posts, reactions, or an event in your Activity Log.
The person who creates a Campus group chat can choose to remove the chat from Campus. For example, if someone sends an inappropriate message in a group chat, the chat admin can remove the entire chat thread.
---
We may receive a portion of sales if you purchase a product through a link in this article at no cost to you, though all opinions are our own. For more information, please read our ethics statement. Please note that pricing and availability are subject to change.