At the flash sale at Best Buy USA, you can get $100 back on AirPods Max for all colors including Space Gray, Silver, Pink Green, and Sky Blue. The current AirPods Max offer price is $449 which is down from the original $549 means you will get instant $100 back on AirPods Max at the Best Buy USA website.
When you purchase AirPods Max at Best Buy, you will get 2 premium Apple services for free for 6 months, which are Apple Music and Apple News+ (only for new subscribers).
$479.00
$549.00
as of Mon, Apr 25, 2022 @ 2:13 PM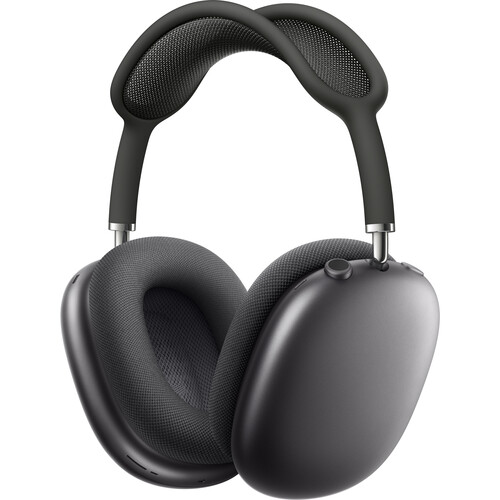 AirPods Max requires iOS 14.3 or later, iPadOS 14.3 or later, macOS Big Sur 11.1 or later, watchOS 7.2, and tvOS 14.3 or later so make sure that your devices must have up to date with the latest software.
AirPods Max's hardware has been precisely built to deliver great acoustic performance to each user. The headband is covered in a breathable knit mesh canopy that distributes weight and relieves on-head pressure.
For a wide range of head shapes and sizes, the stainless steel headband frame is sturdy, adaptable, and pleasant. Telescoping headband arms simply extend and shrink for a perfect fit.
AirPods Max features an Apple-designed H1 processor, a proprietary acoustic interface, and innovative software in each ear cup to provide the best possible listening experience. The chip's 10 audio cores, each capable of 9 billion operations per second, enable a groundbreaking listening experience with Adaptive EQ, Active Noise Cancellation, Transparency Mode, and spatial audio.
A 40 mm dynamic driver in the Apple AirPods Max produces rich, deep bass, precise mid-range, and crisp, clean high-frequency extension so you can hear every note. Even at maximum volume, the AirPods Max boasts a patented twin neodymium ring magnet motor that allows it to sustain less than 1% total harmonic distortion over the entire audible range.
AirPods Max Features
Adaptive EQ: AirPods Max uses Adaptive EQ to adjust the sound to the fit and seal of the ear cushions by measuring the sound signal delivered to a user and adjusting the low and mid-frequencies in real-time — bringing rich audio that captures every detail.
Active Noise Cancellation: AirPods Max delivers immersive sound through Active Noise Cancellation so users can focus on what they are listening to. Each ear cup features three outward-facing microphones to detect environmental noise, while one microphone inside the ear cup monitors the sound reaching the listener's ear. Using computational audio, noise cancellation continuously adapts to the headphone fit and movement in real-time.
Transparency Mode: With AirPods Max, users can switch to Transparency mode to simultaneously listen to music while hearing the environment around them — ensuring everything, including a user's own voice, sounds natural while the audio plays perfectly. Switching between Active Noise Cancellation and Transparency mode can be done with a single press using the noise control button.
Spatial Audio: AirPods Max uses spatial audio with dynamic head tracking to place sounds virtually anywhere in space — delivering an immersive, theater-like experience for content recorded in 5.1, 7.1, and Dolby Atmos. Using the gyroscope and accelerometer in AirPods Max and iPhone or iPad, spatial audio tracks the motion of a user's head as well as the device, compares the motion data, then remaps the sound field so it stays anchored to the device, even as the user's head moves.
FTC: We receive compensation from the links on this page. Learn more