Google is collaborating with image creators, stock image providers, and digital content associations to launch new features on Google Images. These new features will make finding the right image to use, as well as guidelines for how to use an image for your business or personal project, now easier than before with the help of licensing information on Google.
"Google Images is a great place to find visual inspiration and useful web pages to help make your ideas a reality. Sometimes, bringing your ideas to life requires finding an image you can use—like when you're looking to communicate a message, decorate a space, or do something creative on the web. But with a seemingly infinite number of images online, finding the right image to use, and knowing how to use that image responsibly, isn't always a simple task."
With Google Image, it will now make it easier to find licensable images. For results where the publisher or image creator provided licensing information, then Google Images will display a "licensable" badge over the image. When you select a badged image to view, it will show a link to the license details of the image, and if provided by the publisher, you'll also find a link to where you can purchase or license the image. See the details in the picture below.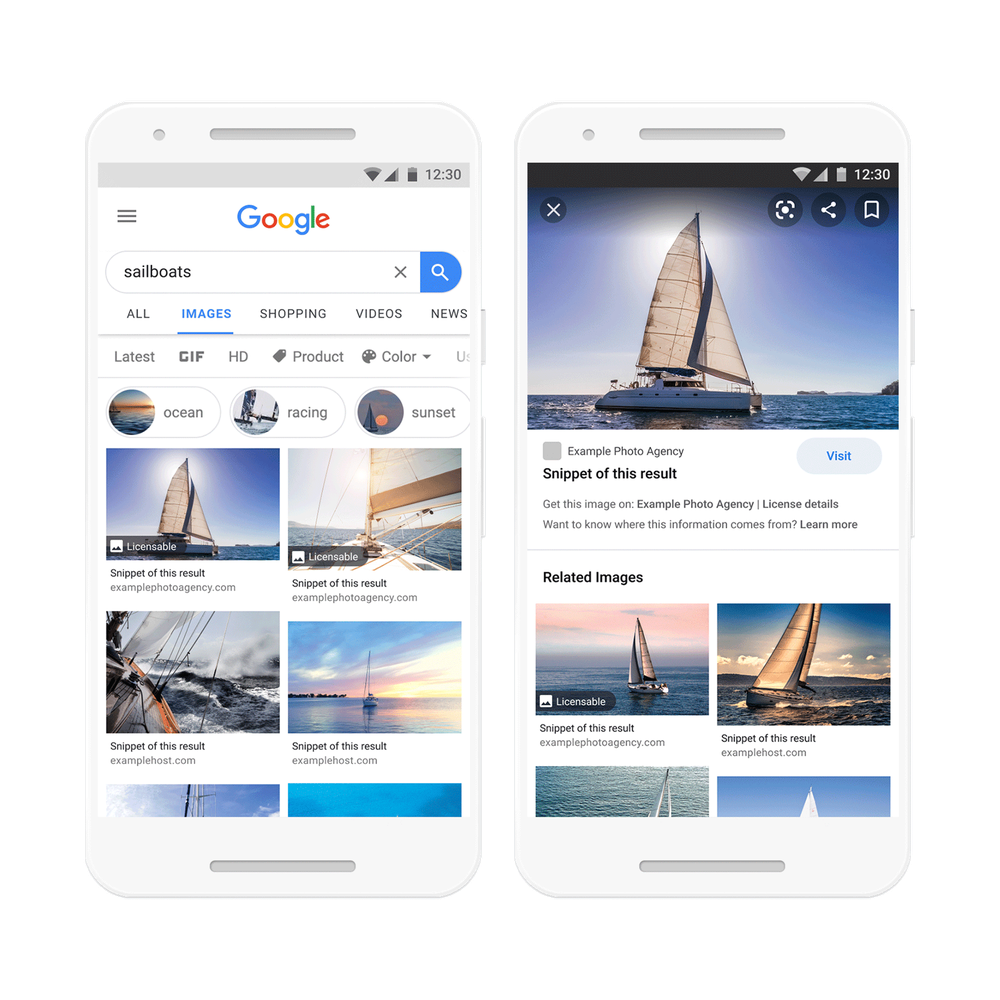 You can also filter results to only return those images that include licensing information. You can now select either image that has Creative Commons licenses, or those that have commercial or other licenses, in the Usage Rights dropdown menu on Google Images. For any of the license types, you can learn how to acquire a license for the image by clicking on the license details link provided.
What are the benefits to image licensors?
As noted earlier, if licensing metadata is provided from the image licensor, then the licensable badge, license details page, and image acquisition page will be surfaced in the images viewer, making it easier for users to purchase or license the image from the licensor
If an image resides on a page that isn't set up to let a user acquire it (e.g. a portfolio, article, or gallery page), image licensors can link to a new URL from Google Images which takes the user directly to the page where they can purchase or license the image
For image licensors, the metadata can also be applied by publishers who have purchased your images, enabling your licensing details to be visible with your images when they're used by your customers. (This requires your customers to not remove or alter the IPTC metadata that you provide them.)
This means Google made changes on Google Images in recent years to make it more clear who the creator or copyright holder of the image is. With licensing information, you can also see information related to image credit, copyright, and creator when you select an image to view on Google Images and it's made available by the publisher.
Source: Google Webmaster
---
We may receive a portion of sales if you purchase a product through a link in this article at no cost to you, though all opinions are our own. For more information, please read our ethics statement. Please note that pricing and availability are subject to change.