Today, Google unveiled a new, sleek, elegant concept for the Nest Thermostat. It's an energy-saving thermostat that you can monitor with the integration of the Google Home app from anywhere. It can even monitor your heating and cooling system, all for just $129, and identify possible problems early.
"We built this thermostat because people want to use less energy at home, whether to save money or help the environment. But most people are still using the decades-old thermostat that came with their house. To many, smart thermostats still seem too expensive—something that would be nice to have, but not something for their home. So we set out to change that—here's what you can expect from the new Nest Thermostat," said Google.
The main reason people consider upgrading from a programmable thermostat is to save energy, and the new Nest Thermostat will help you to find ways to save that your conventional one can not.
You can set a custom temperature at different times and on different days with a Quick Schedule in the Google Home app (download from the App Store or Google Play), and it even provides suggested pre-set temperatures that balance comfort and energy saving. You can adjust your settings anytime from the app.
Nest Thermostat is actively searching for small optimizations with Savings Finder that will help you to save energy in your home. It proactively suggests small tweaks to your schedule that you can accept using the Home app. It could, for instance, suggest a small change in your sleep temperature to help support sleep while saving you more energy.
The Nest Thermostat will also help you stop heating an empty house or cooling it. It utilizes Soli motion-sensing technology and the location of your phone to check if you have left the house and set yourself to an Eco temperature automatically so that when you're not there, you don't waste energy.
It's easy to install a new Nest Thermostat; you can install your own Nest Thermostat in 30 minutes or less. This works in most homes, and before buying with Google's online Compatibility Checker, you can check whether it works in your home. And in addition to the Home app, using Google Assistant on your Nest speaker or monitor, or with Alexa on other smart devices, you can also control the thermostat with your voice.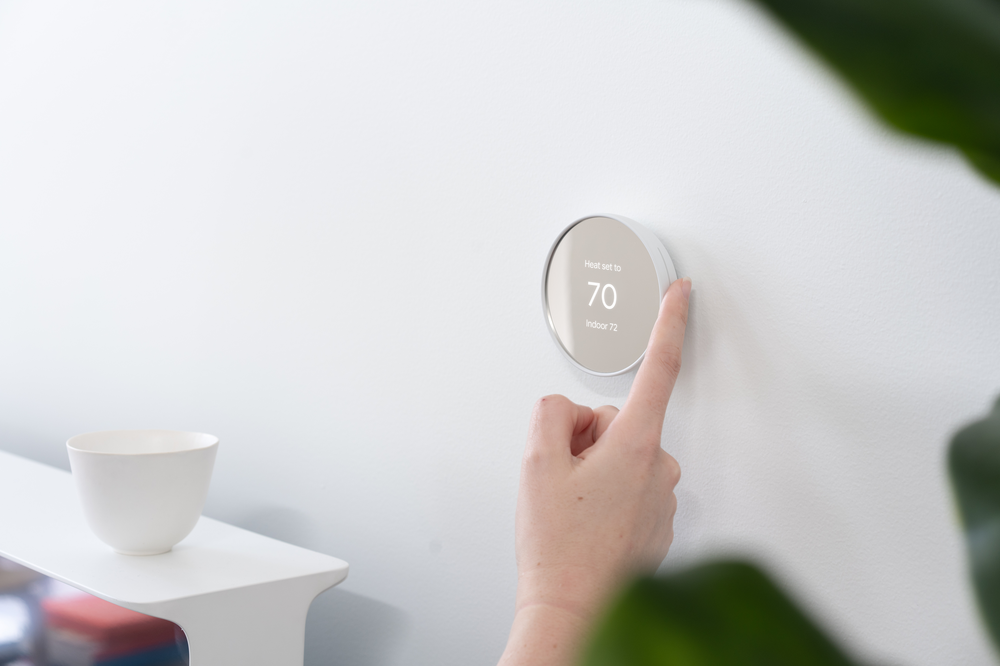 The Nest Thermostat has a sleek design and comes in a range of colors to match every home: Snow, Charcoal, Sand, and Fog. And while we know some people will want to do their own touch-up painting when they remove their old thermostat, Google now offering a Nest Thermostat Trim Kit, designed to cover any imperfections on the wall in perfectly matched Nest Thermostat colors.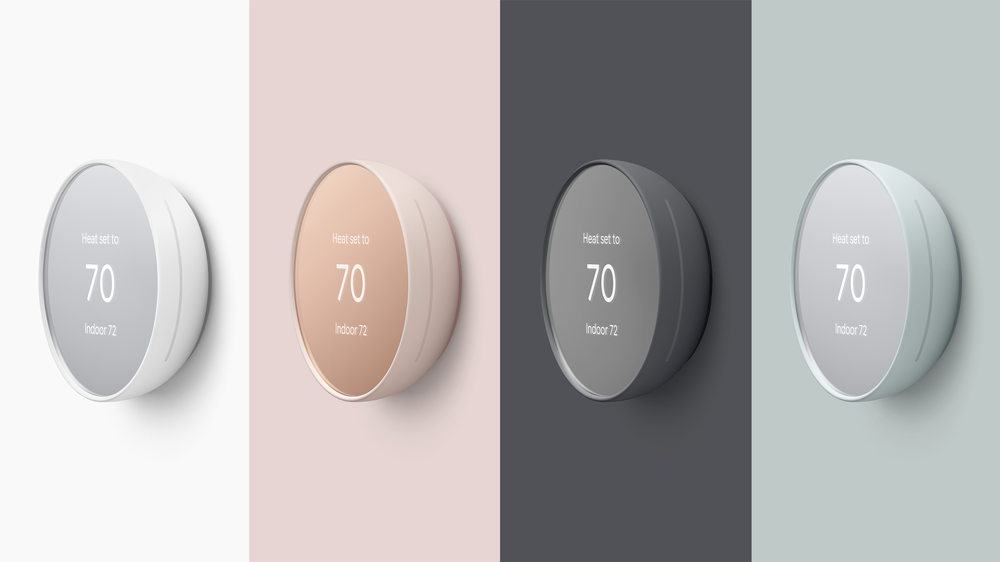 Recycled materials are used to design the Nest Thermostat. Its plastic components contain 49 percent post-consumer recycled plastic, and 75 percent post-consumer recycled plastic is made from the Trim Package.
Homeowners realize how important heating and cooling systems are, and they can be costly to repair if they fail. Your Nest Thermostat looks out for potential problems with HVAC monitoring to ensure that everything is running smoothly with your HVAC system.
If something's not right is noted by your Nest Thermostat, it sends an alert through the Home app or email. From there, you can schedule a visit from a trained technician through Google's partner Handy to find someone with preferred pricing, flexible online scheduling, and a money-back guarantee in your area. Later this month, with the option to book a pro available in most countries, this feature will start rolling out to all qualifying Nest thermostats in the U.S. and Canada. See: http://g.co/nest/hvac-monitoring
The Nest Thermostat is qualified by utility providers across the country for energy efficiency rebates, making it possible to get one for even less. In the rebate checker, you can check for eligible rebates and offers through the Google Store. And you might be able to buy a Nest Thermostat with the rebate applied at checkout on Google Store or on your service marketplace, depending on your service.
Starting today, you can pre-order the Nest Thermostat, and it will be available in the coming weeks on the Google Store and select retailers, including Best Buy and Home Depot, for $129.99 in the U.S. and $179.99 in Canada, with the Trim Kit sold separately at those same locations ($14.99 in the U.S. and $19.99 in Canada).
---
We may receive a portion of sales if you purchase a product through a link in this article at no cost to you, though all opinions are our own. For more information, please read our ethics statement. Please note that pricing and availability are subject to change.